by Harriet Edquist
© all rights reserved
---
This paper was inspired by this photograph, taken in 1918, of a young boy at Youanmi on the Murchison goldfields in Western Australia north-east of Perth. The biblical (mis)quotation was uttered by Irish-born Franciscan priest and architect Cyril John Hawes – who had arrived on the goldfields a little earlier – in his despair on arriving at the great 'lake' of sand, salt and yellow clay which one had to cross by train from the port town of Geraldton to reach his parishioners in Cue and Day Dawn. 'Cue is the end of the earth, and Day Dawn even more at the back of beyond,' Hawes declared.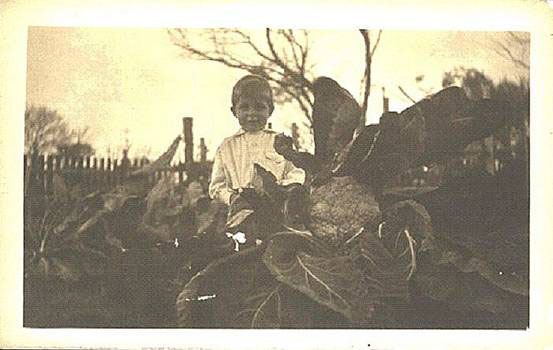 Source: Author's private collection.
Although the young boy had been born in this place of desolation, Day Dawn, a few years before, the photograph presents us with a different view of the mining town; one of fecundity, enclosure and well-being. We see him holding a huge cauliflower, weighing 16 lbs, grown in the family garden. Other photographs taken at the same time show this boy and his siblings holding other large vegetables or standing beneath a vine of truly gigantic beans. Their father Victor Edquist took the pictures and behind the lens we can sense the satisfaction of a gardener who has produced such wealth in such a place.
The Murchison goldfields were proclaimed in October 1891. Their centres, Cue, Nannine, Day Dawn, Mullewa, Yalgoo, Boogardie, Youanmi, Wiluna, were orderly, highly-organised oases of industrialism that enjoyed the most advanced technology of the day. Although many are ghost towns today abandoned and largely uninhabited, their imposing buildings (more often than not designed in Perth by government architect George Temple-Poole) attest to their boom years of gold production.
Victor Edquist was a metallurgist whose working life was mostly spent on the goldfields of Western Australia. His specialty was treating residues, and as a young man in Kalgoorlie he patented a new method for doing this. In 1912 he joined the London-based company Bewick Moreing & Co (BM) as a metallurgist and for the next few years operated all around the Murchison fields at Cue, Day Dawn, Meekatharra and Yalgoo. People like Victor and the priest, Hawes, led peripatetic lives as they moved from mine to mine, and town to town. Victor's family was born and grew up in the interstices of these peregrinations and we catch only glimpses of them and the gardens they created.
Victor was appointed to the Youanmi mine in 1916. Youanmi country repelled Europeans; isolated, waterless and difficult of access, it wasn't until 1907 that prospectors ventured to tackle it seriously. They complained that the land was fly-ridden, intensely hot in summer and bitterly cold on winter nights; great clouds of mosquitoes swarmed after the summer storms that also brought thick clouds of swirling red dust. You had to be keen.
In 1909 Bewick Moreing arrived. The following year it made its first outright purchase of a lease; the town and mines then cranked into life. Victor came to the Youanmi Gold Mine in the middle of the war when everything was difficult; there were few supplies, things broke down. In 1914 there had been a miner's strike against Bewick Moreing using contract work and because of the outbreak of war, shortage of labour and rising costs.
The garden at Youanmi was Victor's domain; he created and worked in it. The soil was fertilised by chook manure and watered by the bores that were put down as soon as a goldfield had been proclaimed. The produce was shared with the neighbours. A picket fence surrounded the garden. Beyond was the town, situated on high ground. It had the wide streets typical of gold towns, broad enough for the camel teams to haul their wide loads along and turn around in. Beyond was a country broken by rocky ridges. There was a fairly thick cover of trees, predominantly mulga ( Acacia aneura ) small spreading trees with grey green leaves, but also desert quandong ( Santulum acuminatum ) with red edible fruit and scrub sandalwood (Santalum spicatum) with hard dark and fragrant wood. In August the wildflowers were in bloom and parts of the countryside around Youanmi were knee-deep in flowers, wide-spreading sheets of yellow 'paper-daisies' (Helichrysum spp.).
BM was active on all the major goldfields, providing not only mine management and related services but also services in connection with mining company flotations. Based in London, it operated on an international scale and was organised on a partnership basis. It was in operation on the Murchison Goldfield by 1897 with offices in Cue, Perth and Coolgardie and by 1904 they controlled 50% of Western Australia's gold output. It is said that Herbert Clark Hoover was stationed for a time in their Day Dawn office. He certainly worked for Bewick Moreing. Hoover had graduated from Stanford University in geology in 1895. Aged just 22, with only a little mining experience in California, New Mexico and Colorado, he applied for and was appointed to a position overseeing their investments in Western Australia in 1897.
Hoover landed in the port of Albany in May 1897 and travelled to Coolgardie by train – a country he described as beset with ' red dust, black flies, and white heat' ; in September he sent a detailed report to BM about the Sons of Gwalia Mine at Leonora on the eastern goldfields on the edge of the Great Victoria Desert and recommending purchase. In January 1898. Sons of Gwalia, claimed by Welsh miners a few years before who had named it for the ancient name for Wales, was a BM Mine.
In May 1898, at the age of 23, Hoover was installed as Superintendent of the Sons of Gwalia Gold Mine where he spent about six and a half months before accepting a senior position with the company in China. Sons of Gwalia was one of the most famous and successful of Bewick Moreing's concerns and made many people's fortunes. But this came at a cost. Hoover was extremely efficient at mine management but he set up a pattern for ruthless industrial relations, including importing labour and management expertise from overseas and interstate, something guaranteed to rile local workers.
Victor and his family moved from Youanmi to Sons of Gwalia in 1923 and in 1927 occupied Mine House when he became Superintendent. Hoover had built the house from locally-made bricks during his brief residence, and it boasted French doors and a wide verandah. The garden was not as practical as that at Youanmi. It was a flower garden tended by a gardener. It grew some extraordinary things, like huge stocks the size of a small child. There were large head tanks which supplied the mine; one was used as a swimming pool by the children. There was a chook yard, a creeper-covered boardwalk to the outside toilet and a garage for the car. Around the mine town were well-timbered areas, mulga timber being used to supply the mine and town with wood for fuel, which caused extensive and permanent deforestation for kilometres around.
Victor came to Gwalia at a difficult time, a year or two after a fire had destroyed a large part of the works and when rising costs and static returns were threatening the mine with closure. He kept it operating during the Depression by frugal means; re-treating old tailings dumps; creating new power plant from existing labour and resources, improving treatment for the water for the boilers, gaining investment by proving new ore body. Meanwhile in 1929, Hoover, whose first fortune had come from this same gold, was elected President of the United States of America. Hoover led that country into the Depression years, refusing to take it off the gold standard. Britain (and Australia ) left the gold standard in 1931 and Roosevelt's USA finally followed in 1933. At this point, goldmining resurged and the future of the Sons of Gwalia was assured, at least for the next few decades.
Sources:
Edquist, E. L. 'Life of Victor Thomas Edquist 1879-1944', unpublished memoir 1958 Edquist family papers
Edquist, Richard C., 'Innovation in the Western Australian Outback', paper delivered to Second AusIMM Mineral Heritage Seminar, Sydney, July 1988.
Hill, Chris 'US President's outback home', Australian Geographic, no. 14, 1989, pp. 21-22
Hooper, J. M. Youanmi. A Story of Murchison Gold, Hesperian Press, Western Australia, 1987
Laurie, Victoria 'The Presidential Prospector, The Weekend Australian Magazine, 15-16 November 2003, pp.29-31.
Lyons, Eugene, Herbert Hoover: A biography. Garden City, N.Y., Doubleday, 1964.
Turnbull, C. W. F. 'Looking Back. Gwalia – Leonora W. A. Random Notes 1895 – 1963', compilation of primary sources, not dated (c.1987)
Harriet Edquist is a Professor of Architectural History and Head of the School of Architecture and Design at RMIT University, Melbourne.
.
Acknowledgements
I would like to thank my aunt, Mary Wreford (formerly Edquist) for her assistance with this paper. The boy in the photograph, William Edquist, was my father.